The Sapphic Book Bingo is a huge organizational endeavor. Planning all the recommended reading lists takes months, so the deadline to submit your books for the Sapphic Book Bingo is usually in the fall.
However, if you missed the deadline, there are still multiple ways to use the Sapphic Book Bingo to market your books:
Create a book card for each of your books
Create a handy card for each book that lists its categories. You can include the setting of the book so readers know if it fits the "set in a country or state you haven't visited" category. For the list of all book bingo categories, take a look at the rules & categories post on my website.
Here's an example for one of my own books: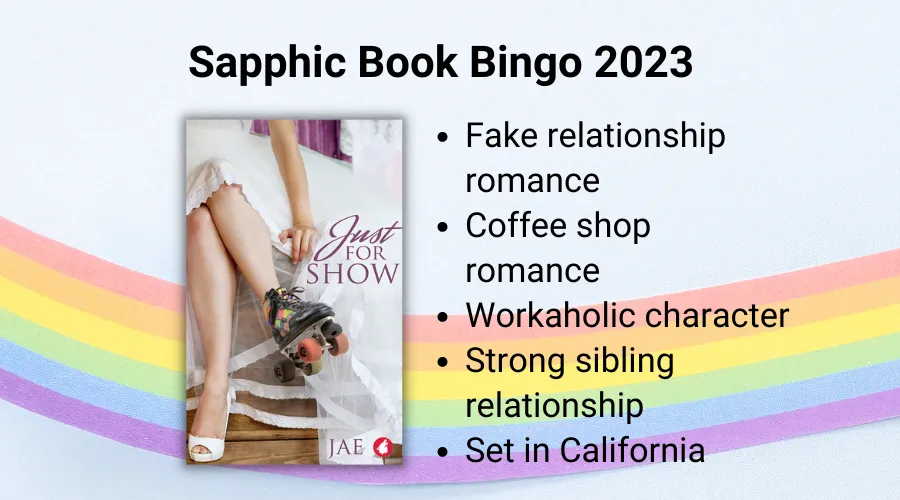 You can share your cards with your readers on social media and/or in your newsletter.
You can also add them to the book cards folder in my Facebook group. I'll leave the folder pinned to the top of the group all year, so it'll get a lot of visibility. If you don't want to upload the book cards yourself, feel free to email them to me and I'll add them to the folder for you.
Recommend your book on my blog or in my Facebook group
Drop by my Facebook group and/or my blog on Thursdays, when a new category is posted, and recommend your book in the comments of the Book Bingo post if your book is a good fit.
Make sure you read the category description first.
Put together a page on your website
You could even put together a new page on your website that shows how all of your books fit into the two reading challenges for sapphic fiction readers—the Sapphic Book Bingo and the IHS Reading Challenge.
I have done it for my books, and several fellow authors have created such a page too, including Karin Kallmaker, Cheyenne Blue, A.L. Brooks, and Johana Gavez.
Add your book to the Sapphic Book Bingo on StoryGraph
StoryGraph is a platform for readers similar to Goodreads. You can join StoryGraph and add your book to various sapphic reading challenges, including the Sapphic Book Bingo.
Sign up for the Sapphic Quill newsletter
I usually run a reading challenge every year, and the call for submissions goes out in the fall. Please subscribe to the Sapphic Quill newsletter to make sure you don't miss the opportunity to submit your books for the 2024 Sapphic Book Bingo.