Have you heard of StoryGraph? If you have, are you using it as a reader or have you explored StoryGraph for sapphic fiction authors?
What is StoryGraph?
StoryGraph is an alternative to Goodreads—a platform that allows readers to track what books they've read as well as their to-be-read list. They can share reviews, get personalized book recommendations, and create or join reading challenges.
StoryGraph gives readers cool stats, pie charts, and graphs about their reading habits.
Currently, StoryGraph has 1.6 million users.
How can you use StoryGraph as an author?
Like Goodreads, StoryGraph is a platform for readers. Unlike Goodreads, it doesn't have an author program, so options for authors are limited.
You can enter the giveaway program they are beta-testing, and you can add your books to reading challenges, which I'll describe in more detail below.
One interesting thing you can do is check out your book's page and see how readers are describing your book. To me, it's always interesting and helpful to see my books through readers' eyes. For example, here's how readers on StoryGraph describe my latest book, Just a Touch Away:
Moods
emotional 73%
lighthearted 63%
funny 47%
hopeful 36%
reflective 26%
relaxing 21%
adventurous 10%
informative 10%
inspiring 10%
tense 10%
challenging 5%
sad 5%
Pace
medium 84%
slow 15%
Plot- or character-driven?
Character: 72% | A mix: 27%
Strong character development?
Yes: 100%
Loveable characters?
Yes: 94% | It's complicated: 5%
Diverse cast of characters?
Yes: 58% | It's complicated: 17% | N/A: 11% | No: 11%
Flaws of characters a main focus?
Yes: 93% | It's complicated: 6%
How to add your book to StoryGraph reading challenges
In order to add your books to reading challenges, you have to sign up for a StoryGraph account.  When you are asked whether you want to import your data from Goodreads, you can skip this step. You then have to fill out a short survey about the type of books you like to read.
Once you've set up your account, click "reading challenges" in the menu bar and click "browse" to search for reading challenges that might fit your books.
You can also jump directly to each of the reading challenges I listed for you below. To add your books, you have to join the reading challenges first. Then go to your book's StoryGraph page by searching for the book title in the search bar. On the book's page, click "add to reading challenge" (see pink arrow in the screenshot below).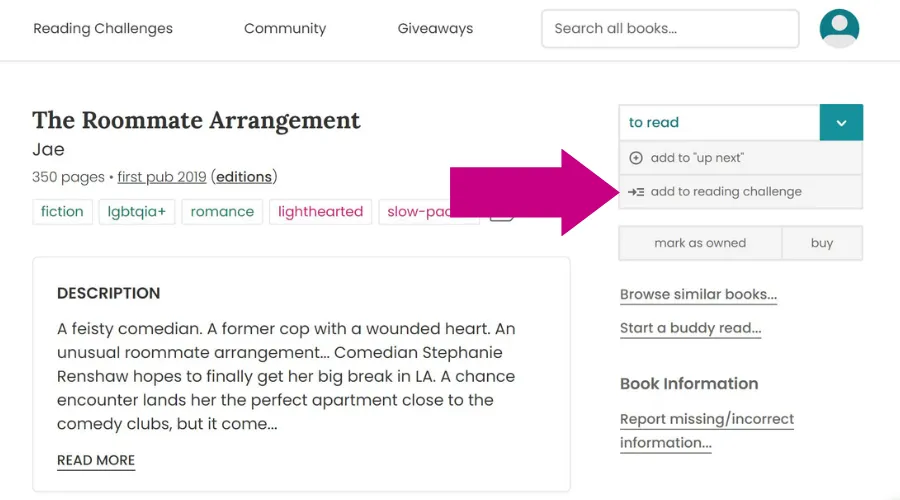 You can then pick one of the reading challenges you joined and choose the categories your book fits.
List of sapphic StoryGraph reading challenges
Here are my suggestions for which reading challenges you might want to add your books. I picked those with most participants.
How are you using StoryGraph?
Do you have a StoryGraph account? Are you using it as an author or a reader?