Other than writing great books that readers love, the most important thing you can do for your writing career is to set up a newsletter and grow your mailing list. A helpful tool for that is BookFunnel.
It's a site where you can upload your reader magnet (a free ebook that you offer new subscribers) and readers can download it in exchange for (or with the option of) signing up for your newsletter.
Here's a step-by-step instruction on how to use BookFunnel to grow your mailing list:
Pick or create your reader magnet
You could either pick an existing ebook that you want to give away as a reader magnet or you could write a new story. It doesn't have to be a full-length novel; using a short story as a reader magnet is just fine.
Avoid using excerpts or sample chapters. While some BookFunnel promos allow them, it's really annoying for readers to get only an excerpt, especially if you don't make it clear it's not the full book.
Usually, a standalone story works best because readers who haven't read any of your books will also be able to enjoy it.
Make sure the story is professionally edited and has a professional-looking cover. It needs to reflect the quality of your work.
Don't use a book that is in Kindle Unlimited, since that would violate Amazon's terms of service and endanger your KDP account.
Create a BookFunnel account
Go to Bookfunnel.com and click "sign up."
BookFunnel offers three different plan options. If you want to participate in group promos and collect email addresses for your newsletter, you'll need the mid-list author plan, which costs $10/month or $100/year but is worth every cent if you are serious about your writing career.
Select a plan and click "sign up now."
Add your pen name
Once you have created your account, click on "add new" at the top of the left-hand menu, then "add new pen name."
Fill out the short form with your author name (the name on your book cover), your email, a link to your privacy policy (which you should have on your website), and a link to your author website. If you don't have a privacy policy on your website yet, add one. It's required by law anyway.
Upload your reader magnet to BookFunnel
I created a video that shows you how to upload an ebook to BookFunnel.
Create a landing page on BookFunnel
Once you've uploaded your ebook, you need to create a landing page where readers can download the ebook.
Here's a landing page for one of my reader magnets as an example.
I created a video that shows you how to set up a landing page on BookFunnel.
One important decision when setting up a BookFunnel landing page is whether to make the newsletter signup optional, giving readers a choice to sign up instead of forcing them. That's the option I prefer. It might get you fewer subscribers, but these will be people who actually want to receive your newsletter. You don't want to have a lot of unsubscribes or pay for subscribers who never even open your emails.
Enter your ebook into a group promo
On BookFunnel, you can enter two types of cross-promotions (called group promos):
Newsletter builder, which offer free ebooks for readers to download in exchange for signing up to the authors' newsletters;
Sales promos, which present a showcase of books that are sold via Amazon and other retailers. These books are often, but not always discounted.
To grow your mailing list, you need to join the former. I've created another video that shows you how to join a newsletter builder promo.
Be picky when it comes to the group promos you participate in. Don't pick generic promos that target a broad group of readers, or you will end up with a lot of subscribers who aren't interested in the kind of books you write. Preferably, choose promos for your specific subgenre.
BookFunnel promos for sapphic books aren't as readily available, but I keep a list of the available ones and update it constantly.
Before you join a promo, make sure you read the requirements. Some require a certain mailing list size or a certain share reputation or they don't allow explicit covers, etc.
Promote the BookFunnel promo
If you join a BookFunnel promo, you need to promote it. If you don't share, the organizer will kick you out of the promo and block you from participating in future promos.
Each author who participates in a BookFunnel promo gets an individual link that you use to promote the cross-promo. BookFunnel registers how many clicks your link gets. Your average number of clicks across all promos you participated in is your share reputation.
On the share date you picked, send out a newsletter with the link to the promo page and post about the promotion on social media. The other authors in the promo will do the same, allowing all of you to gain new subscribers.
Check out my post on successful cross-promotions for tips on what a post or newsletter promoting an event needs to contain.
Welcome your new newsletter subscribers
Once the group promo ended, you can download the email addresses of your new subscribers on the book's landing page by clicking "export CSV" (see orange button in the screenshot below).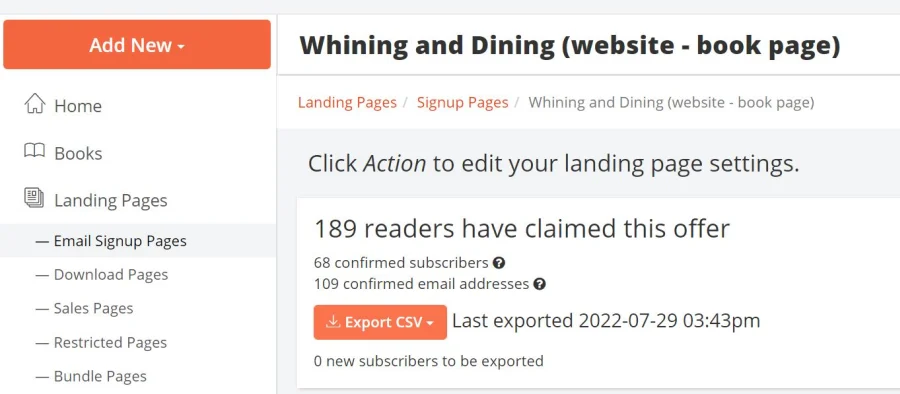 You can then import the CSV file into your newsletter service. I would suggest tagging your subscribers (if you are with Mailchimp) or putting them in a group that you name accordingly (if you are with Mailerlite) so you can keep track of where these subscribers came from and whether they are opening your emails.
Subscribers who come from BookFunnel newsletter builders are not as "warm" as organic subscribers—they might have never heard of you or your books before. You need to guide them through a welcome series or at least send them one welcome email to introduce yourself.
More about newsletters in a later post. For now, I hope you found this post on how to use Bookfunnel helpful to grow your mailing list.